The Chimes (newsletter)

Worship & Music

Education
Fellowship

Outreach

In Time of Need

Giving Back (Stewardship)

Art & Architecture

About Us

Links
WELCOME!

The Church of St. Andrew welcomes all to worship in our sanctuary and to participate in our many activities and ministries.
New to St. Andrew's?
---
Communications Team Appreciation and Thank you, Sunday, August 28, post 10 a.m. service
Sunday, August 28 there will be a thank you and appreciation event for the Communications Team at St. Andrew's. We will be recognizing and thanking Elizabeth Muller for her work on The Chimes, Penny Stratton for her work on our website, Peg Howard for putting out the weekly update, and to Alison Fowler for gathering information. If you are interested in participating in this ministry, please come forward. We are in the process of working toward a major update in our web services and there is room for volunteers in this ministry. If interested, please contact Marsha Cassidy or Pat Brown of the Vestry People Team.
Education Program Registration day is Sunday September 4th.
There will be a table set up outside the Parish hall (look for the balloons) Registration will be open 9:00am- 9:55 and again after the 10:00am service during coffee hour.
Welcome Fall Picnic, Sunday, Sept. 11, post 10 a.m. service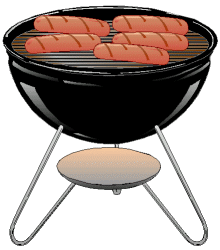 Please mark your calendar for the annual parish BBQ! Volunteers for grill masters, kitchen help, set up, take down, side dishes, and drink donations will be welcome. As always, it is your generosity that helps make a great event. The coordinators for this fun family event are Nat Wysor, Kate Swanson, and Chris Stockwell.
Wingmasters/Pizza Party Saturday, October 1, 3 p.m.
Please mark your calendar for a wonderful upcoming event. The Wingmasters is a live presentation that will take place in our Parish Hall. Various live hawks and owls will be displayed with accompanying educational explanation, followed by a pizza/dessert/beverage offering. These raptors come from a rehab/sanctuary for injured great birds of prey. A great show for all ages! Ticket prices will be nominal. Some volunteers will be needed to help with the food. Thanks to Roy and Eileen Young for sponsoring this event.
---
If you have not yet made your pledge to St. Andrew's,
please do so soon. Thank you!

---
If you have suggestions for things to add to the website, or want to
add images to our online photo album, please send an e-mail to communication@standrewsmhd.org
135 Lafayette Street / Marblehead, Massachusetts 01945
781-631-4951 / Fax: 781-639-7937 / officestandrews@verizon.net
Updated 8/24/16

BIBLE STUDY
Tuesdays, 9:15 am

In the Cloister Gallery August 7-October 6: Group art show by local photographers Dan Gamez, Steve Harrington, and Corey Robichaud Read more
Youth Choir: Sundays, 11:45
Youth Groups: Senior High, 1st Sunday,
5-7 pm
My Brother's Table: 1st Tuesday
Poetry Saturdays: 4th Saturday, 7 pm
Each Friday is Zen Friday in the meditation area, 12:30-2 pm
---
Please see The Chimes for full details about upcoming services, programs, and events.
---
Pastoral Care
For a ride, email Peter Phillips or call 781-631-0201; for a meal, email Jan Rand or call 781-639-2614; for a pastoral visit, contact the rector, Clyde Elledge; in a pastoral emergency, call Clyde's cell phone, 781-576-0329.
---
Read selected sermons
Read our latest service schedule (acolytes, lay readers, ushers, etc.)
Read the history of St. Andrew's
"Like" St. Andrew's on Facebook and see our latest news and photos!
---
St. Andrew's Cooperative Nursery School provides preschoolers with the experience of living and learning with others of varied backgrounds. Visit the school's website.